The Complete RBRVS Updateable Data File
Optum360
---
The Complete RBRVS - An RBRVS fee schedule with gap values created by Relative Value Studies, Inc. The Medicare physician fee schedule (MPFS) is used to set physician fees for Medicare and many commercial fee schedules. However, the RBRVS does not provide a complete schedule. Medicare does not pay for certain services —these services usually are not assigned relative value units (RVUs) by CMS. Codes not valued by Medicare are referred to as gap codes. The Complete RBRVS Updateable Data File gives you all the codes valued by CMS, with gap values developed by Relative Value Studies, Inc.

Please note, this product is an alternative to The Essential RBRVS with gap values established using a different methodology.
Updateable format. Receive quarterly updates to keep current with changes from CMS.
Gap codes for complete fee schedule development. RVUs developed by Relative Value Studies, Inc. Medicare payment indicators included. Surgical assistant indicators and other data commonly used for Medicare and commercial reimbursement.
Values for CPT® and HCPCS codes. Consistently value services and procedures from different code sets.
Total values and components for each code—including work, malpractice, practice expense, and total RVUs. Evaluate and analyze the costs associated with a service, providing a more complete picture of your reimbursement.
CPT is a registered trademark of the American Medical Association.

Multi-user licensing available.

CUSTOMERS WHO BOUGHT THIS ITEM ALSO BOUGHT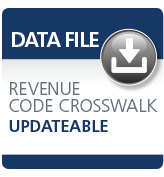 Revenue Code Crosswalk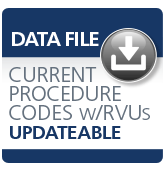 Current Procedure Codes with RVUs Subscription Data File
Complete Cross Coder Data File